Top Benefits of Having an Attendance Management System in 2021
We are all familiar with the term 'attendance'. Right from our school days, we have been marking attendance daily and the same system has transcended into our workplace. However, when it comes to a company, one can't simply have a person do a roll-call for the employees!
So, what is Attendance Management System, and more importantly, what is its relevance in 2021? Simply put, an attendance management system is a tool that helps you, as a company to streamline your employees' attendance.
A well-thought-out cloud-based attendance system will not only help an employee mark his or her attendance easily but also help lessen the burden of HR by integrating seamlessly with other HR-related systems like payroll and leave management.
Although legacy time and attendance management systems used registers, punch cards, etc. traditionally, the rise in technology and biometrics has given rise to modern software integrated with biometric devices to mark employee attendance.
A cloud-based attendance system is particularly relevant in 2021 when the global Covid-19 pandemic has taken a toll on both the employees and the employers they work for. Remote working has become the norm nowadays and having a cloud-based attendance management system goes a long way in helping both HR and employees remain productive.
In fact, it was estimated that there will be a 50% rise in remote employees by 2020. Based on how this prediction has become true, implementing such an attendance system is one of the best investments any company can make for their employee's welfare, especially in 2021.
What is Attendance Management?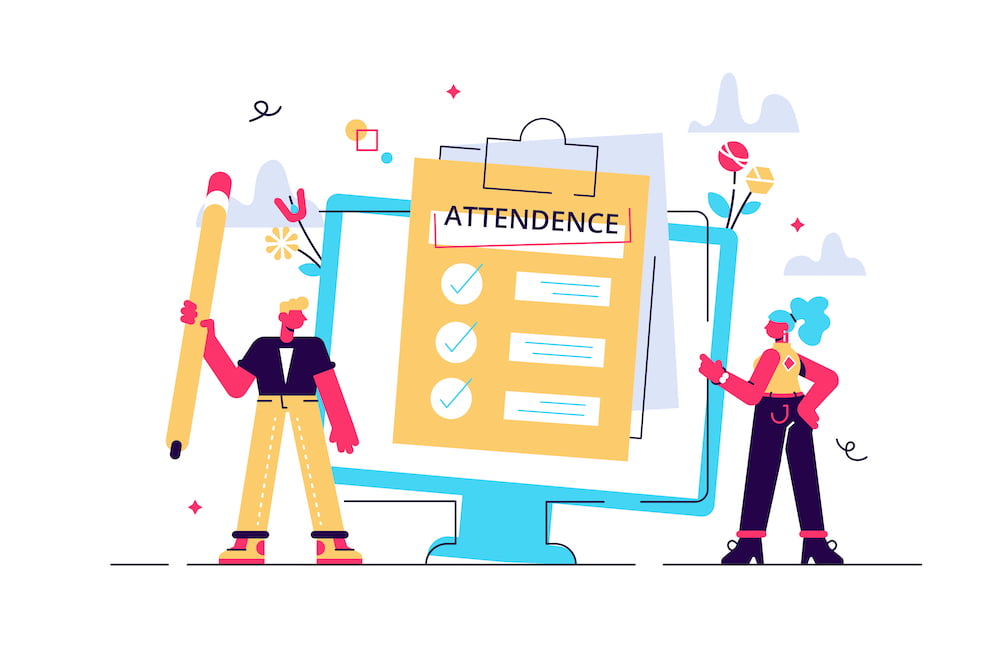 Attendance Management keeps track of your employee hours. It is the system you use to document the time your employees work and the time they take off. Attendance Management can be done by recording employee hours on paper, using spreadsheets, punching time cards, or using online attendance software for your company. Any Attendance Management Systems sho9uld have the following core features;
Core features of Attendance Management Systems
For any software to be categorized as an attendance management system, it requires some features which complement the daily duties of the HR, related to employee attendance. These duties can be either augmented or even automated with a well thought out Attendance Management Software.
So, what are the core features of a good attendance management system? Let us take a closer look at some of these must-have functionalities:
Attendance management
Leave management
Payroll management
Policy compliance
Reports generation
Desirable Extra Features Of An Attendance Management Software-
Although the aforementioned functionalities are included as core features, other desirable features elevate your attendance management system from being 'a good software' to 'an award-winning system'. Let us get acquainted with these desirable features:
Biometrics
Remote attendance
Cloud integration
ESS
ESS or Employee Self Service portal has become a boon for HR.
Mobile app by having your employee install a simple mobile app!
As we have seen earlier, notifications can be sent directly to the employee's phone using the self-service mobile app.
Advanced HR analytics that can predict employee leave analysis and clock-in times, predict the trends of employees quitting an organization
Integration with other HR apps
Importance of Attendance Management /Why do you require an attendance management system?
Now that we have discussed what employee attendance management systems are, let us understand why it is better to have it as software instead of the legacy methods:
Bulky Physical Time And Attendance Registers
The modern office space is very different from the offices of yore. Gone are the huge filing cabinets, replaced by modern laptops and tablets. Your office space in 2021 needs to be less cluttered and roomier for your employees to work in harmony with their team.
Your attendance management software will help you in keeping the decorum of the office space by avoiding those ugly time and attendance management registers, which will not only save space but also make the desks look aesthetic.
Similarly, it is better not to discuss the nightmare-inducing working hours spent on calculating the time and effort spent on time-tracking and overtime calculation for each employee at the end of every month based on those registers. It has always been cumbersome to manually calculate the working hours for every employee and the kind of attention required for the same usually takes a toll on HRs themselves.
Ancient Spreadsheets
It seems that since the advent of time itself, spreadsheets have been a friend of HR. However, to be honest, this friendship has not been devoid of hardships. HRs resorted to using spreadsheets as there was nothing better at that time. Entering employee attendance data manually into spreadsheets raises multiple issues like data inconsistency, data manipulation, calculation errors, etc.
However, modern HR software makes spreadsheets look like ancient technology. With more than 88% of companies implementing advanced innovations like Artificial Intelligence and Machine Learning in modern employee attendance software, data has become a vital component of these attendance systems and it is being used to even predict employee behavior.
Costly Biometric Hardware
Since technology started taking over our workspace automation, many companies started using biometric devices for marking employees' attendance. However, they come with the added cost of installing and maintaining the hardware for these devices. As you can understand, this also meant that most of the SMBs and smaller enterprises did not implement the same due to the added overhead of cost and maintenance of these machines.
A good digital attendance management software can effectively integrate existing technology like CCTVs or even mobile cameras to mark your employees' attendance. Usage of mobile cameras is especially cost-effective for any company nowadays since it uses a resource that everybody owns and maintains on his own – a smartphone.
Lack Of A Central System
Another headache for companies related to attendance management is the lack of a comprehensive system that could encompass every branch of the company. Many enterprises employ different kinds of attendance management software for their individual branches.
For example, one of the branches might use Excel sheets to enter attendance data manually while another branch might be using physical registers.
However, issues arise when it comes to collating the data concerning payroll, overtime, etc. It becomes clear how cumbersome it is when we consider the fact that a company having multiple branches will be employing a higher number of employees.
Exhausting Remote Attendance
Work from home has become the buzzword for 2020 and going forward, both companies and employees will continue the same. It provides employees with the convenience of working from the comfort of their homes in their pajamas while the employers benefit from the cost-savings in maintaining the infrastructure and systems.
In such a scenario, we require robust remote attendance software that can accurately capture attendance remotely. Modern attendance software is capable enough to locate the employee while registering their attendance. This will not only reduce the time thefts but also help HRs calculate payroll based on the clock in and out time.
What Are The Types of Attendance Management System?
A number of HR and payroll software solutions come equipped with attendance management capabilities. However, there are a number of different types of available software for attendance management system and each one differs a little from the next.
Sometimes clubbed with an attendance management system is also a leave management system, which, together with an attendance management software, delivers the inputs for the payroll needs of a company. Coming back to the various attendance management software available in the market today, here's a quick outline:
The employees of your organization can enhance their productivity with these software suites.
1. Biometric attendance software
A biometric attendance system essentially verifies the identity of the employee and captures one's time of entry and exit using his or her fingerprint. Such systems are very popular today and for good reasons. This prevents any chances of buddy punching which leads to time leakages that can affect the productivity of an organization as a whole.
Biometric systems are usually integrated with other systems to convert the data into lucid reports. This can be done easily. Such systems have also been found to be extremely cost-effective as there are no-cost heads apart from the actual biometric machine itself.
Adding or removing employees too can be done easily, quickly and with minimum inconvenience.
2. Break Time Tracking Software
Many organizations or types of organizations feel the need to track the duration of breaks taken by employees. For them, break-time tracking software is just the key. With such software, employees can punch in and punch out multiple times throughout the day.
The first punch-in is treated as the employee's entry into the company premises. Thereafter, every punch out and subsequent punch-ins are treated as a break from work. The time phase between each punch-out and punch-in is treated as one break.
Such systems find use particularly in companies where the time spent on projects is critical.
3. Online Attendance Management Software
A timekeeping system that offers a web login facility is generally known as an online attendance management software. These functions use cloud technology to ensure that one's attendance data can be accessed and logins and logouts performed from virtually any location with an internet connection.
Logins and logouts can also be performed with ease at the simple click of a button – a convenience many employees expect in our digital age. Such systems also come in handy when you have a large part of the workforce that's working remotely, at client locations or in outbound sales roles.
Now that you have a basic outline of the types of attendance management systems out there and their key features, why not pick one that meets your requirements today? Attendance management software delivers way higher efficiency than traditional systems such as attendance musters. Also to be borne in mind is the fact that attendance management software that is integrated with other HR systems such as leave and payroll deliver far higher synergy than a standalone attendance management system.
What are the Benefits of Having an Attendance Management System?
Until now, we have been discussing the core features of an attendance management system. We have also taken a look at some of the most desirable add-ons which will greatly enhance its functionality. Hence, we are now in a position to discuss some of the major advantages of attendance management software:
Improves Efficiency of an Organization
The most important benefit of implementing attendance management software is the tangible improvement in the efficiency of the HR department. A recent study concluded that an HR professional with the right tools spends only 95 hours per month on employee-related concerns compared to 111 hours for HRs without those tools.
Although this figure might not look that significant initially, we cannot ignore the fact that this is the difference for just one HR; the cumulative hours saved would be much higher.
Ensures Accuracy and Consistency
Ensuring data accuracy and consistency is a headache for any HR using spreadsheets. Even if the HR is highly skilled, one simply cannot ignore the fact that human errors might creep in any time. However, having a robust attendance management system will not only help avoid such errors but also removes the hassle of cross-checking data time and again to ensure consistency.
HRs can heave a sigh of relief knowing that their data is safe and secure in the software's database.
Improves Employee Productivity
A 2019 survey by G2 Crowd revealed that 80% of HRs found that HR technologies improved employee's attitudes towards the company. This also motivates them to be more productive which ultimately helps the company reap better rewards in the long run.
This kind of improvement can be achieved only by keeping the employees satisfied and implementing robust attendance management software goes a long way in ensuring the same.
Helps Create Data Rich Reports
Data is the currency of the digital age. Hence, the ability to visualize data and deduce meaningful observations has become a part of HR nowadays. This is why attendance management systems have the functionality to create reports.
However, good attendance management software will also have the option to visualize it in a meaningful manner which will help HR observe and infer meaningful conclusions from it. Modern attendance management systems even use machine learning to analyze and keep track of existing data and provide significant insights.
Eliminates Time heft
Time theft has been a major headache for any HR since the origin of the working class. A major advantage of the attendance management system is that it eliminates this menace completely. Modern attendance management systems use biometrics, which is very hard to manipulate.
Similarly, with the advent of geofencing and geotagging, it has become convenient for managers and HRs to monitor their employees effectively. All of these measures help reduce time theft effectively, thus ensuring that the employee remains productive during his or her working hours.
Removes Manual Errors
Another major trouble for HRs was the manual errors and the risks they posed in creating reports. If the source data itself is corrupted, it leads to loss of data integrity at every step of processing said data.
Hence, HRs were under constant pressure to make sure that the data is coherent. However, with the advent of attendance management systems, HRs can be at peace knowing that the data is safe and secure. This saves a lot of their time too since they need not cross-check the data every time they modify anything.
Enforces Policies Of The Company
Company policies are important for any company as much as any statutory regulation. They are required for the smooth working of any organization. Hence, it is only natural that these policies need to be enforced rigorously.
The best way of enforcing these policies is via attendance management systems since they can be used to inform the employee via the ESS portals as well as make sure that they are following the same by using the mobile app as mentioned above.
In conclusion, we have answered the question, 'What is Attendance Management System?'. We have also talked about its core features while also understanding its desirable features. Finally, we have understood the various benefits of attendance management software. Hence, this is the perfect time to introduce People choice HRMS, the award-winning HRMS platform which has all the aforementioned desirable features.
However, it also offers much more as it is not just an attendance management software. It is a cloud-based complete HR management system that also employs artificial intelligence and machine learning to boost HR productivity and help organizations become awesome places to work at.
To learn more about People choice HRMS and recent developments in the HR world, check out recent blogs here!